Our History
---
NIGICO's strategic orientation is to always fulfill the customers' energy requirements with efficiency and flexibility. Thus its main orientation is to keep up with the technological evolution and to satisfy even the most critical and demanding requirements of the installations.
1996: NIGICO LTD is founded
1997: Strategic agreement with Chloride Power Protection.
1999: NIGICO undertakes some very important projects with UPS systems and is now established as one of the biggest companies in the UPS field. 
2000: Foundation of NIGICO SA
2001: NIGICO is qualified with the ISO 9002:1994 standard. Meanwhile, the company establishes the educational service "NSC" (Nigico Support and Consulting).
2003: Nigico upgrades the existing quality standard to ISO 9001:2000 and expands its co operations with ELTEK and TRIPPLITE. 
2004: The company signs strategic contracts with TELLAS, ATTIKO METRO, PPC, OTE, & ATHENS 2004.
2005 : Nigico presented modular UPS technology with Newave
2006 : Reinforces the product range with NRG series.
2007 : The business fields of telecommunications and Batteries are reinforced. More contracts are signed with Wind, Forthnet, PPC
2008 : NIGICO is evolving and renewed. The company invests in new premises and renews the company logo.
2009 : NIGICO acquires the building of 2000m2 surface in which the company is located. Moreover NIGICO enhances its battery business unit with ENERSYS. The company expands its activities in the market of Cyprus.
2010: The company reinforces its exporting activities and establishes new offices in Cyprus. Moreover NIGICO entered the field of renewable energy.
2011: Despite the economic recession, NIGICO manages to grow its market shares and expand to the market of Cyprus.
2012: NIGICO is expanding its cooperation with EMERSON, offering quality power solutions in a wide range of contemporary business activities.
2013: C&D Technologies, one of the most dynamic battery manufacturers is establishing a productive & important cooperation with NIGICO S.A.
2014: NIGICO SA cooperates with FIAMM offering its full battery range to the Greek and Cypriot market.
2015: NIGICO reinforces the battery range with LEOCH batteries and enters more dynamically in the field of complete Data Center solutions.
2016: The company undertakes very critical projects and now is able to implement the complete design and construction of a Data Center. Moreover NIGICO SA is qualified with the certifications ISO 14001:2004 & OHSAS 18001:2007.
2017: The company places great emphasis upon Close Control HPAC systems. NIGICO SA undertakes some of the most important projects for installation and service. Moreover NIGICO establishes a promising cooperation with SOCOMEC to support critical projects
2019: NIGICO Business figures grow steadily and the company is signing contracts with DT for Greece & the Balkan countries and reinforces its battery activities.
2021: NIGICO is qualified with ISO 22301 certification for business continuity.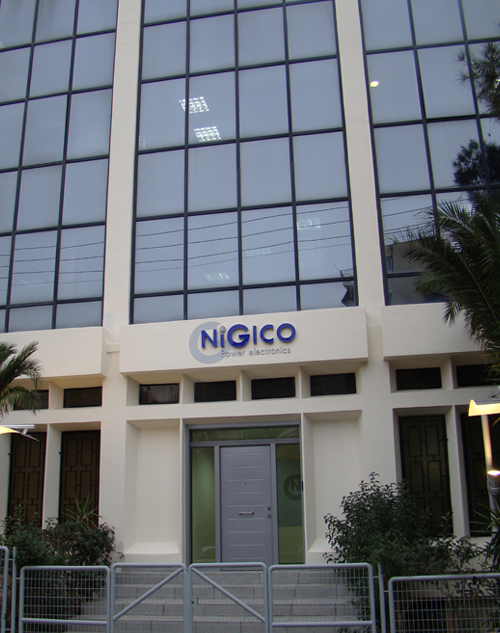 NIGICO is based in a privately-owned building of 2000 m² where it houses its administrative services, the technical support department, assemply area, training room, as well as a storage area of 800 sq. m.
The building also houses the innovative Life.net remote-monitoring and remote-servicing center.